Elevating ESG: An ACCP Summit
April 11-12 2023
1pm – 4pm ET
Interactive Online Program
Overview
Environmental, Social, and Governance (ESG) issues are key business drivers for companies today. Understanding how these areas add value or create risk for your company, and your role in infusing CSR into the ESG conversation, is crucial for Corporate Citizenship leaders, as you play a role in both understanding and impacting the ESG issues relevant to your business. Join us for Elevating ESG: An ACCP Summit to learn more about how you, as a CSR practitioner, can elevate your company's ESG strategy.
Who Should Attend:
Corporate Citizenship leaders looking for strategic approaches to align CSR and ESG efforts
Corporate Citizenship leaders assigned to implement an ESG program
Corporate Citizenship leaders motivated to drive impact through cross-functional collaboration with other lines of business.
Tuition
ACCP Members: $395
Nonprofit partners of ACCP member companies: $395 (you will need to input your partner contact/company during registration)
Non-ACCP Members: $595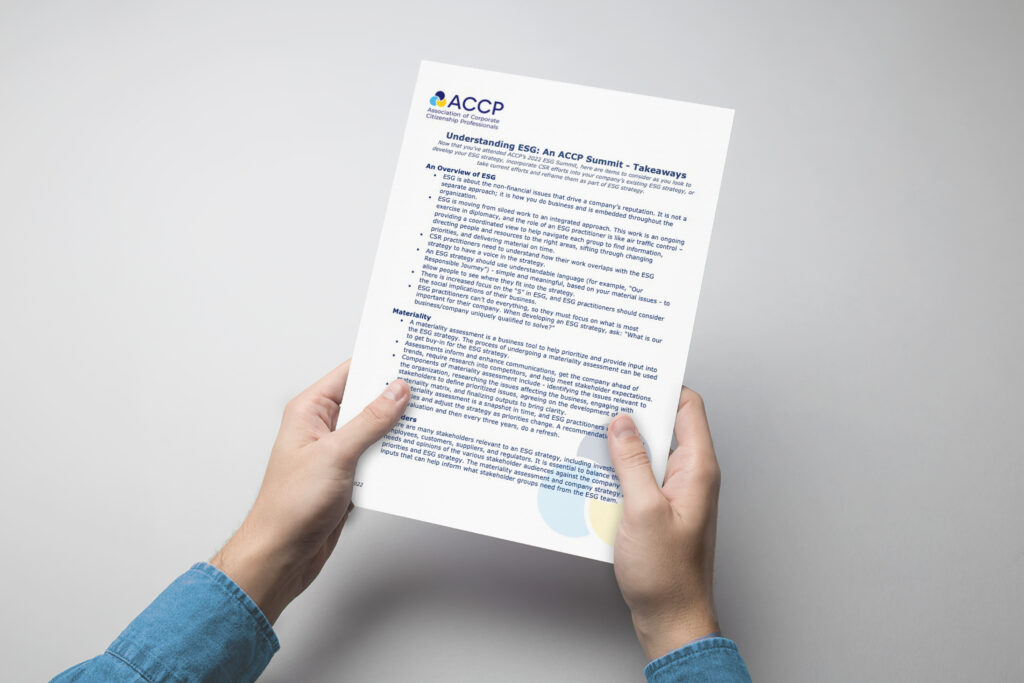 found session topics timely and useful
are likely to implement what they learned
ranked value of Program Good or Excellent
Program agenda coming soon.