ACCP Staff
As corporate social impact professionals, you obviously understand the value of CSR and ESG initiatives. These programs and activities can not only help companies create a positive impact on society but also have the potential to add significant value to a company's bottom line.
And while you are driving these efforts forward, we know that – more than ever – you are being called upon to prove the value of your work internally and do more with less.
That's why ACCP created the Making the Case for Corporate Social Impact toolkit to help CSR and ESG professionals communicate the benefits of corporate social impact to the business and make a compelling data-driven case for securing needed resources and implementing new and/or additional programs.
Below we highlight specific ways to use Making the Case to demonstrate five business benefits your company can derive from social impact work:
Competitive Advantage
Retaining & Recruiting Top Talent
Risk Mitigation
Grow Revenue and Sales
Benchmarking Peer Companies
Competitive Advantage
The ACCP Making the Case toolkit can help you demonstrate how CSR corporate social impact initiatives set your company apart from its competitors, contributing to your company's overall financial performance.
By implementing and communicating about socially responsible initiatives, your company can attract and retain customers who are looking for socially responsible products and services and build a positive brand reputation that can help differentiate your business.
People and Workforce
A company's employees are its most valuable asset. Implementing social impact initiatives can help you attract and retain top talent by demonstrating your commitment to making a positive impact on society.
Use the data and infographics found in Making the Case to help you:
Justify creating new CSR and ESG initiatives that align with your company's values and the values of your employees.
Secure resources and buy-in for corporate social impact initiatives, which are shown to increase employee engagement and job satisfaction.
Attract and retain socially responsible employees who want to work for a company that makes a positive impact on society.
Risk Mitigation
Impactful CSR & ESG initiatives can help your business mitigate risk by addressing social and environmental issues that could affect your operations.
Making the Case provides data that can help you communicate the importance of:
Identifying and addressing potential social and environmental risks that could impact your business, including looming ESG regulations
Developing CSR and ESG initiatives – particularly those around DEI challenges – that can help mitigate risks and create a more resilient business
Demonstrating your company as trustworthy to your investors, stakeholders, and customers as your business takes proactive steps to address potential risks.
Revenue and Sales
Your corporate social impact initiatives can have a positive impact on your business's revenue and sales.
The ACCP Making the Case toolkit can provide you with the data you need to secure the resources and executive buy-in to:
Develop CSR and ESG initiatives that can result in increased revenue and sales by appealing to socially responsible consumers.
Differentiate your products and services from competitors who do not prioritize corporate social impact.
Build brand loyalty as a good corporate citizen among socially responsible consumers, which can lead to repeat business and increased revenue.
Benchmarking Peer Companies
To effectively measure the impact of your CSR initiatives, it's essential to benchmark your performance against peer companies.
Making the Case includes benchmarking data and insights into how companies are approaching corporate social impact and what initiatives are most effective.
By using this data, you can compare your company's performance against peer companies and identify areas where you can improve your CSR & ESG initiatives.
Check Out These Examples for Using the Toolkit:
Example #1: Budget
The Scenario: A CSR leader presents an annual budget request to C-suite, who is considering budget cuts due to the poor economic outlook. The company's current CSR budget is less than 1% of its pre-tax profits.
Data to Make The Case: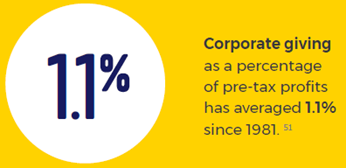 Example #2: Employee Experience:
The Scenario: Your CSR team was recently moved and now reports to HR. Diversity, Inclusion, and Belonging showed up as a material issue for the employee experience in the company's recent materiality assessment. Your new leader isn't convinced that social impact provides value to the employee experience.
Data to Make the Case: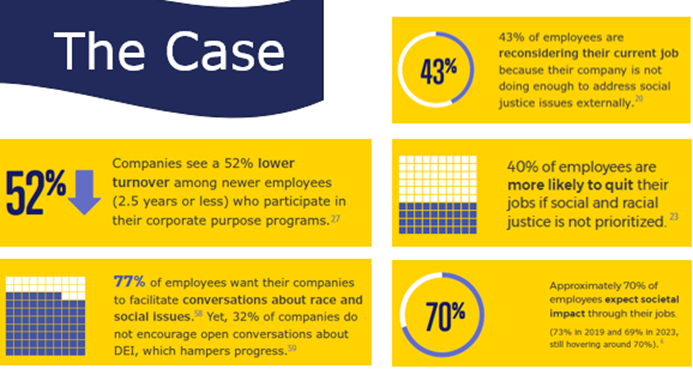 Key Audiences for Making the Case:

Using Making the Case to Develop Your Strategy: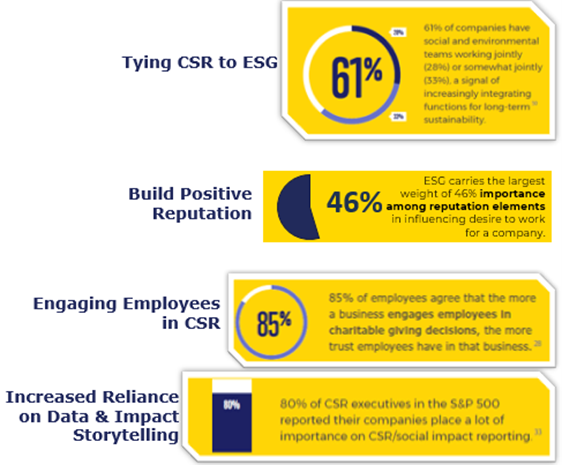 The ACCP Making the Case toolkit is an essential resource for businesses looking to implement effective corporate social impact initiatives. By using the data and insights in this toolkit, you can demonstrate how CSR can have a positive impact and drive value for your company and society..