ACCP Staff
ACCP member LKQ published its 2021 Sustainability Report this week, along with a new brand identity and positioning tagline "Keeping you moving,". We took this opportunity to speak with long-time ACCP member Sany Pierantoni, Director of Global ESG Strategies and Initiatives.
Tell us about LKQ and your corporate social impact focus areas?
LKQ was originally established in 1996 by several Waste Management executives who realized there was a better way to keep automotive/vehicle waste out of our landfills. Since that time, LKQ has acquired nearly 300 businesses – mainly "mom and pop" salvage yards and other vehicle-focused companies. Today, LKQ is the world's largest recycler of vehicles and the most extensive vehicle aftermarket parts and services solutions provider. We are a $13B+ Fortune 300 global company and part of the S&P 500 Index with operations in 26 countries, over 1,600 locations, and 46,000 employees.
Part of LKQ's mission is to "build strong partnerships with our employees and the communities in which we operate." LKQ has established many programs that support our mission, including our LKQ Community Foundation, which focuses on four main areas:
Health & Human Services
Technical & General Education
Recycling & Circular Economy
First Responders (such as military, police, and fire)
How did you begin your ESG strategy journey as a company?
LKQ has a solid environmental foundation as we were founded to recycle vehicles by keeping materials – and the caustic fluids associated with them – out of landfills and preventing contamination of land and groundwater. (See our vehicle recycling depiction below). But, like most companies, even though we were focused on doing all the right things for all the right reasons, we weren't putting a lot of structure or strategy around it.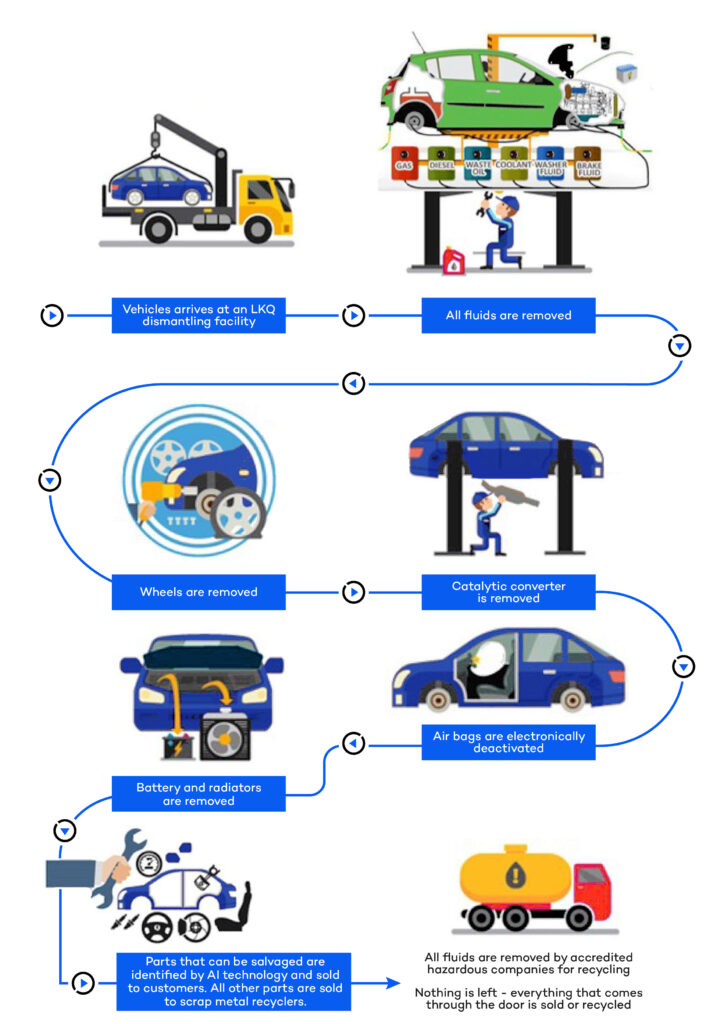 So, in 2019, our investor relations team decided to conduct a Sustainability Materiality Assessment (SMA). From that SMA, we plotted our main focus areas within the context of ESG. (See materiality grid below). As a result of talking to the focus groups that participated in the SMA, we decided to start the process of compiling data to produce our first Sustainability Report. That report was published in April 2021 with 2020 data. By going through that exercise, our leadership quickly realized they needed to focus full-time on ESG matters, and I was hired in May 2021 to head LKQ's global ESG strategy and initiatives. It's hard to believe that an entire year has already passed. It's been a bit of a whirlwind learning the business, meeting with leaders across geographies, and putting measures in place where we could make an immediate impact.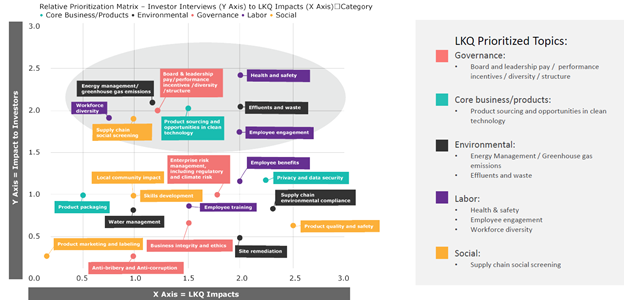 What input did you get from stakeholders as you began?
The SMA exercise, conducted with the help of a well-respected outside agency and partner, was the starting point. Focus groups were conducted with leaders, our employees, and our key institutional investors, and they provided a multitude of areas to think about. Most importantly, they helped our leadership team focus on those areas the groups determined to be the most important to concentrate on first.
What ESG reporting metrics do you currently have in place?
Our ESG strategy and reporting are focused on four main areas:
Our People
Our Communities
Our Environment
Our Corporate Governance & Ethics
What ESG goals has LKQ set?
Early into my onboarding and role at LKQ, I met with our LKQ executive leadership team and our Board of Directors and Governance & Nominating (GovNom) Committee, which have direct oversight into our ESG matters. I also met with numerous key institutional investors and our VP of Investor Relations. There was one overarching theme resonating loud and clear – where we were in our journey of making stated commitments in line with the Paris Climate Accord. So, I hired an outside company that completed a global assessment of LKQ's emissions across all business areas to create our 2021 emissions baseline. This was a crucial first step to setting meaningful and informed emission reductions across the business. We set the following targets with our 2021 Sustainability Report, which is expected to be published to the LKQ website the week of May 23, 2022.
How do you communicate your ESG strategy to your employees/engage your employees in the ESG strategy?
LKQ has an open commitment from the board of directors to our top leadership on down to embed ESG in every facet of our business. ESG is communicated to our employees globally on an ongoing basis. I have a regular article in our Weekly Progress Report (WPR) newsletter focused on ESG, which incorporates various information on ESG reporting, recycling, social impact, and new governance, such as company policies, procedures, processes, etc. We are also exploring ESG/Sustainability Training. As a start, it likely will be offered to our top operational leaders to have them understand the differences in Scope 1, 2, and 3 emissions. Still, as a secondary approach, we are considering investing in ESG/Sustainability Training for all global employees so everyone understands how the ESG Strategy and their actions play into the company's overarching strategic goals and direction.
Are there any differences in your ESG strategy in the US vs. internationally as a global company?
No, not for the strategy itself. However, operationally our business in North America is vastly different than our businesses across Europe. Because of this, our operational leaders and budget vary by line of business (LOB) and by geographic region. But overall, we are all on the same page with the ESG strategy and goals.
Do you have any "lessons learned" or tips around ESG you can share?
Progress over perfection. I have been in the CSR and ESG space for nearly my entire career – over 26 years. The landscape of CSR and ESG has changed over the years, mainly in the last two years due to the convergence of multiple catastrophes like climate change and extreme weather events, the pandemic, which brought to light inequities due to health and employment, economic and political factors, and so forth. ESG is a journey, not a destination. And, it's not one size fits all. Do what's right for your business by identifying the potential risks to your company and where you can identify gaps and start there.