How to Access the Conference App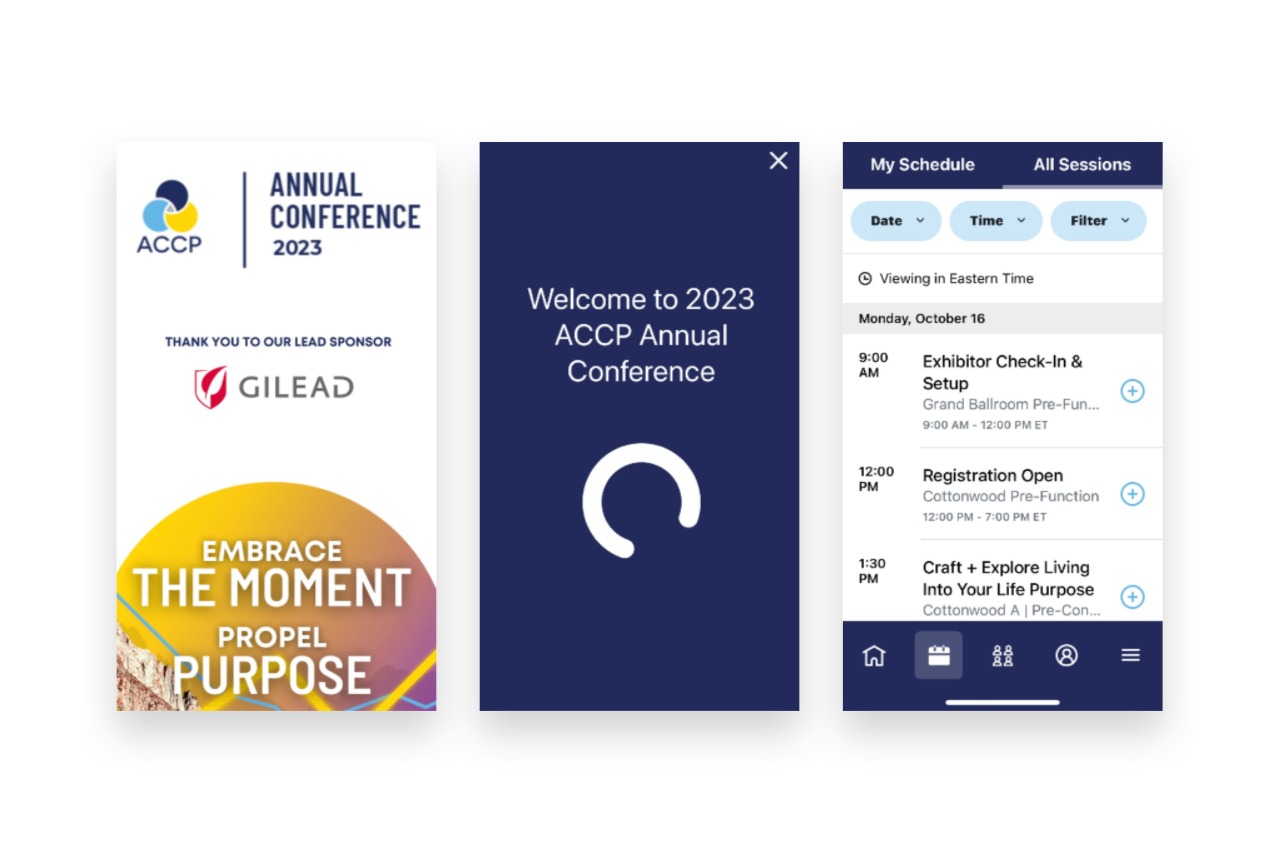 1. Download the app by visiting the App Store on IOS or Google Play devices and searching for "ACCP Events" or you may scan the QR codes above.
2. Search for the event. Return to your device's home screen and open the app. Enter "2023 ACCP Annual Conference" in the search bar.
3. Download the event. Tap the icon to download the event.
4. Enter your info. If you aren't automatically prompted to log in, tap the profile icon at the bottom of the screen to access the Profile tab, then tap Log in.
Enter your first name, last name, and email (Email must match the address listed in your registration). Then tap the arrow.
5. Verify your account. You'll either receive an email and text message containing a verification code or just an email. Read it, then return to the app, enter the code, and tap the arrow.

After entering the verification code, you'll be logged in and taken to the event's home page, or back to the Profile tab.

Conference Sessions and Content in the App
This year, ACCP's Annual Conference has more session types and speakers (over 100) than ever before, covering various topics aligned with ACCP's content priorities and the latest trends affecting the corporate social impact field. For a look at the different session types, please visit our website.
In each session block, attendees can choose between multiple sessions around varying topics. Within the Conference app and website, you can find details on all session descriptions and speakers, including our General Session speakers. We have also tagged our sessions in the app with these categories:
Civic Engagement & Social Disaster/Response

CSR Small Teams

Data & Trends

Employee Engagement & Volunteerism

Equitable and Inclusive Practices

ESG

Grantmaking

Impact Measurement

Professional Development

Signature Programs

Strategic Communications

Strategy & Integration

If you are interested in a particular topic, you can filter by navigating to the "Schedule" tab, select "All Sessions," and then add a Filter for your designated "Track."
We also encourage you to learn about our Conference sponsors and connect with their representatives within the App.
You can also access your social media channels directly from the App. On the home page, scroll down to the "Social Media" section and log into your personal accounts.

Connecting in the App 
This year's Conference App will serve as your hub for connection and information. We encourage you to complete your profile by adding your picture, company, title, professional interests, and any professional social media links you'd like to share.
Community Hub
The community hub will serve as the central landing page for connecting with other attendees in the App. To locate all things connection within the Conference App, click on the icon that looks like four people. You can view the attendee list from this central location, view and contribute to discussions, and chat with your connections.
Attendee List
To learn more about other Conference attendees, select the "Attendee" tab. From the attendee tab, select an attendee's profile and click the icon with a plus sign to the left of the person to connect with someone in the App.
Connections
Once you've connected with a fellow attendee from their profile, and they've accepted your request, you can find them quickly by navigating to your profile and selecting "connections." From the "connections" tab, you can view your connection's profile, start a chat with them, and view their connections.
Messaging in the App
Continue that interesting post-session chat with your new friend by finding their profile in the attendee tab and clicking the chat icon to start a conversation. You can also create a chat by locating the messages icon within your profile tab (person in a circle) and clicking the plus icon.
Discussion Threads
Join your fellow attendees in various Conference conversations via the Discussion threads. You can navigate to the discussion threads from the "Community" icon or the home screen by scrolling down to the "Discussions" section. You will have access to four discussion threads throughout Conference to share your experience, insights, "ah-ha moments," and questions with others. We encourage you to actively engage with the discussion threads as a tool to enhance our peer learning community.
Community Conversation
This discussion thread will serve as our main conversation space within the app at Conference. We encourage you to share your takeaways, questions, resources, and insights as you engage throughout Conference.
Wall of Wins
While doing the work, we sometimes need to remember to celebrate our wins! We'd love to join you in celebrating your accomplishments. Please use this channel to share recent personal and professional victories.
Capturing Conference-Pictures
We want to see Conference through your eyes! Capture and share those fun, memorable, silly, and sentimental moments of community that make Conference unique. Please note pictures shared here may be shared via ACCP's social media channels and in future ACCP marketing.
Parking Lot
Conferences can be an excellent opportunity to generate ideas, ask questions, and spark new thoughts. But we don't always have the time to get to every idea, question, or thought. Please share any questions, comments, or ideas you couldn't cover in a session or conversation!
Community Champion Game
Will you be our Conference Community Champion? Navigate to the "Game" tab to learn more about the different challenges you can complete to unlock the ultimate Community Champion badge. You'll earn points each time you engage in the app, connect with peers, plan your schedule, scan into sessions, complete surveys, view sponsor information, and engage during sessions. Each time you engage, it will push you further up the leaderboard and increase your chances of winning a prize! View the official game rules within the app.

Conference and Session Feedback
We invite you to provide feedback on your overall Conference experience and the individual sessions you attend. 
Within the Conference App, once you scan into your session, you can view the feedback survey for that session. This feedback is incredibly helpful to ACCP in continuing to provide relevant content and to our speakers, who have generously offered their time to share their insights and knowledge.
Following the Conference, you will receive a separate link to complete an overall Conference survey for your entire experience – from sessions to networking to venue feedback and more!
In recognition of your time and insight, once you submit your overall Conference survey, you will receive a $25 Global Giving card to continue propelling purpose for a project of your choice.