FOR IMMEDIATE RELEASE: Wednesday, July 24, 2023
CONTACT: Jeanne Metzger | Vice President of Communications
Association of Corporate Citizenship Professionals
jeanne@accp.org | 202-796-5881
New Survey Finds Environmental Sustainability as the Top Priority Issue of Purpose-Driven Companies   
The top three priority social issues for corporations are environmental sustainability, K-12 education, and food insecurity
FAIRFAX, VA – A new survey released by the Association of Corporate Citizenship Professionals (ACCP), the nation's leading advocate for corporate social impact professionals, shows that environmental sustainability is the top priority social issue for purpose-driven companies.
The top three priority social issues in this year's survey included environmental sustainability (56%), K-12 education (53%), and food insecurity (49%).
The survey of 149 companies representing more than $1 Billion in community investments was conducted in April 2023 and cites, "The focus on environmental sustainability is a natural progression as CSR & ESG functions continue to cooperate and integrate to respond to the material issues of companies. In addition, 66% of survey respondents from global companies indicated environmental sustainability as a priority area, potentially influenced by new EU regulations around ESG."
Full survey results and key graphs and data illustrating the findings can be viewed here.
"A growing number of corporations from a wide range of industries are waking up to the fact that climate change is material to most businesses. This recognition is also now being incorporated into companies' social impact agenda and philanthropic focus areas," said Association of Corporate Citizenship Professionals (ACCP) president and CEO Carolyn Berkowitz. "Given the focus by the public and investors on a company's environmental footprint – and the increase in government regulations, particularly for global companies – environmental sustainability ranking as the top social issue is a natural progression."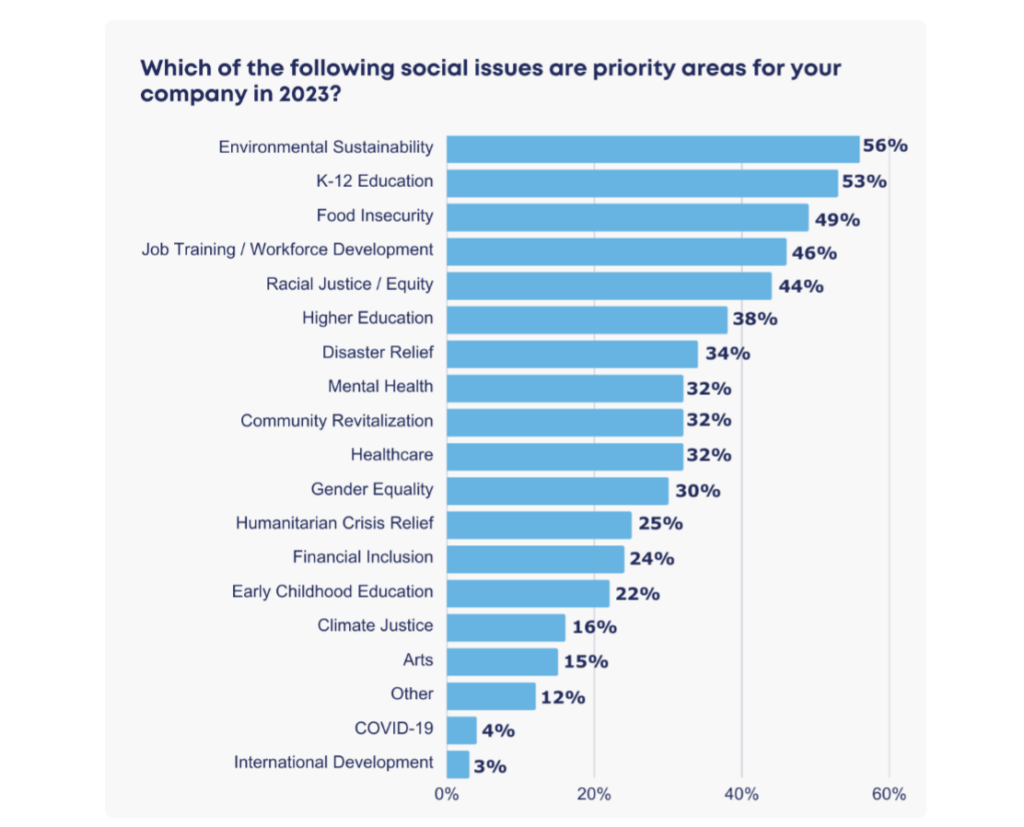 ###
The Association of Corporate Citizenship Professionals (ACCP) is the preeminent membership organization advancing the practice of corporate social impact. ACCP increases the effectiveness of CSR & ESG professionals and their companies by sharing knowledge, fostering solutions, and cultivating inclusive and supportive peer communities. ACCP amplifies the voices of its practitioner network to elevate strategies that work, provide innovative solutions, and expand impact.