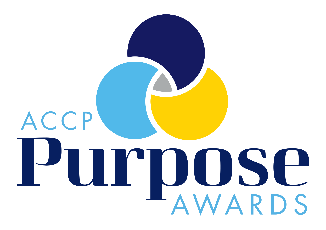 Awards Recognize Excellence in the Corporate Social Responsibility Field
September 12, Washington D.C. – Today, the Association of Corporate Citizenship Professionals (ACCP) announced the 2023 winners of their annual Purpose Awards for exceptional leadership in corporate social impact. The awards, presented in partnership with Rocket Social Impact, recognize CSR and ESG professionals making a significant social and business impact in their companies and communities.
This year's recipients are:
Beth Satterfield, Chief Operating Officer, William Blair – Champion for Change
Lynette Bell, President, Truist Foundation – Trailblazer
Alicea Starr, Manager, Community Impact and Engagement, Veradigm – Rising Star
"ACCP is thrilled to shine a spotlight on these exemplary leaders in the field of corporate social responsibility," said ACCP President and CEO Carolyn Berkowitz. "Their dedication and innovative approaches to the work inspire us all as they represent what's truly possible when business and social goals align in creative ways."
"Recent data shows the demands and responsibilities of CSR professionals continue to increase," said Rich Maiore, CEO & Founder of Rocket Social Impact. "It's critical we recognize the multiple positive contributions CSR and ESG professionals are making within their company, communities, and globally. "
The Champion for Change Award recognizes a senior corporate executive who provides leadership that advances social and business impact in communities where the company operates and throughout the world. Beth Satterfield was named this year's Champion for Change thanks to the leadership she has exhibited in the community and at William Blair, increasing the impact and scope of William Blair's community engagement and philanthropy strategy initiatives.
The Trailblazer Award honors a senior CSR practitioner whose leadership, strategy, and partnerships resulted in significant business and societal impacts. As President of Truist Foundation, Lynette Bell has created thoughtful and groundbreaking strategic partnerships embedded with the principles of purpose-centered philanthropy to advance underserved communities. 
The Corporate Social Impact Team of the Year Award recognizes a team of CSR and/or Environmental, Social, & Governance (ESG) practitioners whose collaborative and innovative approach to a project or program generated significant business results for the company and social impact in the community. Novartis' global Giving and Volunteering Program combined traditional philanthropic efforts and innovative approaches to address one of the world's most significant humanitarian challenges, the refugee crisis occurring in more than 50 countries.
Finally, the Rising Star Award is given to an emerging professional in corporate citizenship whose work creates meaningful impact inside and outside the company, often requiring influence well beyond the level of their position. As the only employee in Veradigm's corporate social impact department, Alicea's leadership of strategic initiatives focused on health equity and emphasis on community partnerships and engaging Veradigm's employees set her apart.
Separate committees of judges chose this year's Purpose Award winners, comprised of past Purpose Award recipients and current CSR and ESG industry leaders.
The Association of Corporate Citizenship Professionals (ACCP) is the preeminent membership organization advancing the practice of corporate social impact. ACCP increases the effectiveness of CSR & ESG professionals and their companies by sharing knowledge, fostering solutions, and cultivating inclusive and supportive peer communities. ACCP amplifies the voices of its practitioner network to elevate strategies that work, provide innovative solutions, and expand impact. www.accp.org

Rocket Social Impact is a leading CSR & ESG consultancy, advising established and emerging companies on their social impact strategy, implementation, and communication. Go further, faster. www.rocketsocialimpact.com
Media Contact
Dana Frazeur
dana@accp.org
(854) 529-1511