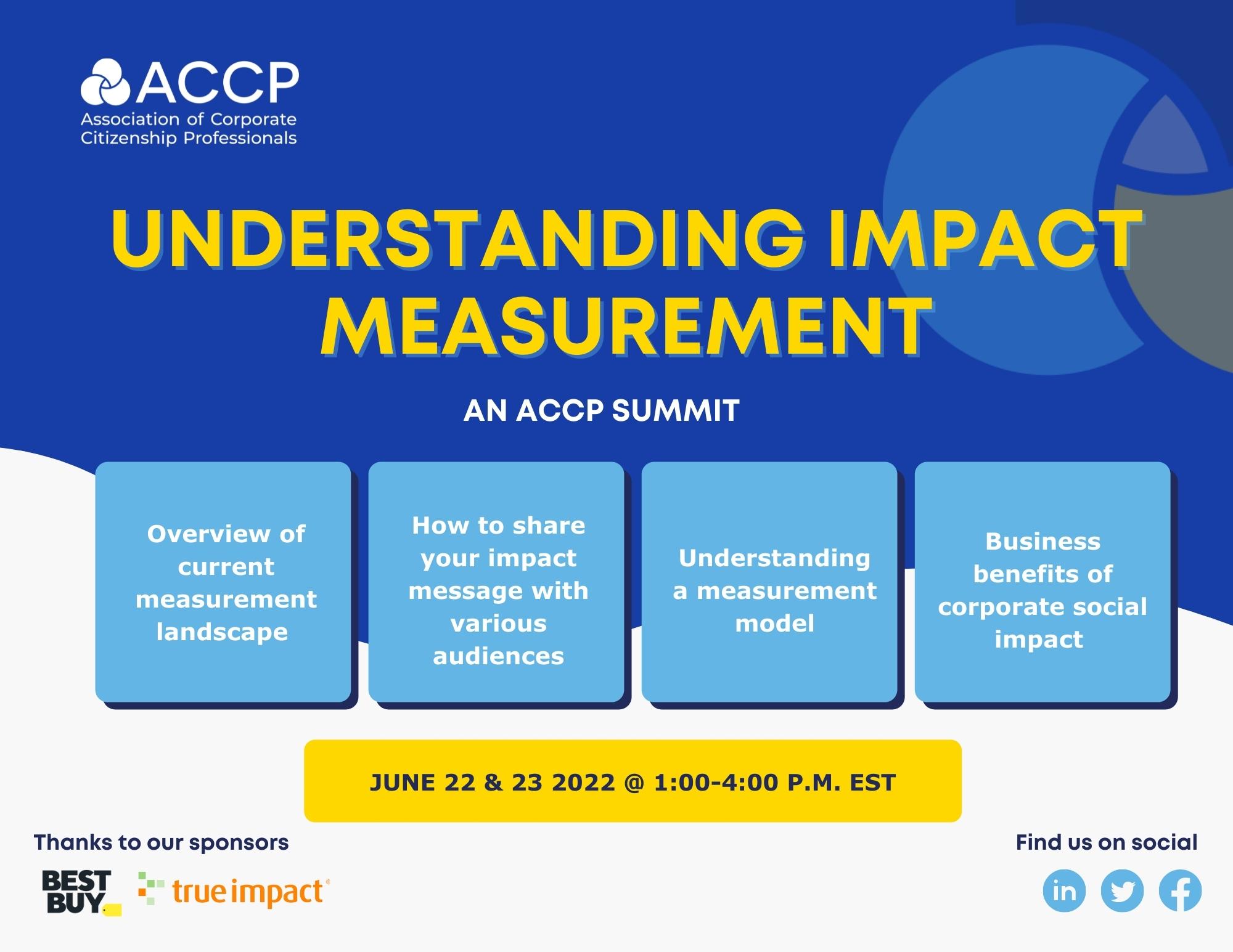 Understanding Impact Measurement: An ACCP Summit
June 22 & 23, 2022
1pm – 4pm ET
Interactive Online Program
Overview
From activist investors to belief-driven employees and purpose-minded consumers, companies are being called to account for their actions and commitments more than ever before. According to the 2022 Edelman Trust Barometer while business is the most trusted institution, respondents believe business is not doing enough to address societal problems. So, as stakeholders hold business accountable, it is vital that companies can be able to transparently demonstrate their social impact. Yet, for many corporate social impact practitioners, how and what we measure often remains an elusive subject within. From inputs to impacts, business ROI to community advancement, we know that measurement has a profound impact on the daily work of CSR practitioners. Join us for an Introduction to Impact Measurement: An ACCP Summit to learn about the current measurement landscape, an overview of the B4SI model, the need to incorporate equity into your measurement practices, and how to use measurement to show that CSR can be a contributing factor to achieving business goals.
Learning Outcomes
Over the course of the Summit, we will cover:
The current measurement landscape including options to measure community and business impact and how to evaluate which option is best suited for your organization
How to share your impact message with various audiences
The importance of including equity in your impact measurement practices
An overview of the B4SI measurement model and the terminology of measurement
The business benefits of corporate social impact and how business goals and CSR strategies can be linked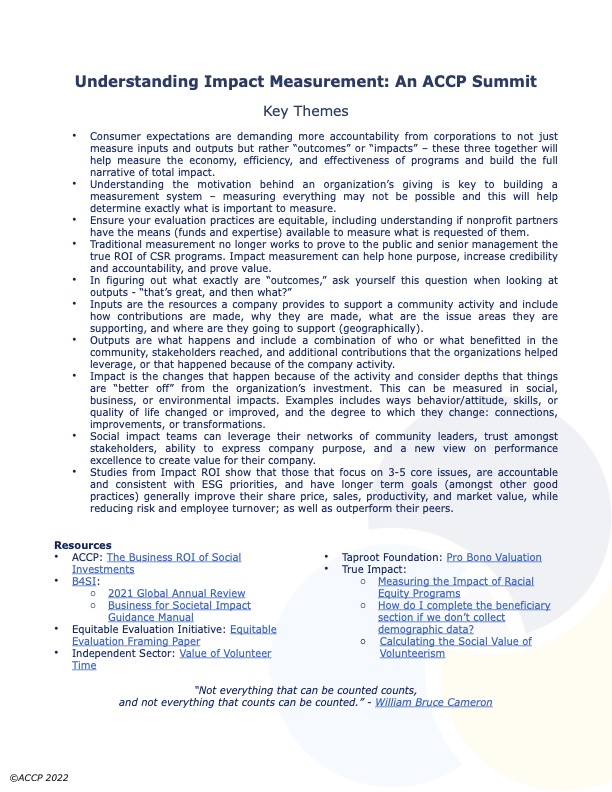 Agree or Strongly Agree content will be valuable to their current position
Agree or Strongly Agree Session Topics are timely and useful
Day One – June 22, 2022 – 1pm – 4pm
Welcome and Introductions
Get to know those in the session
The Measurement Landscape
Discuss what we mean by measurement
Explore the options for measurement and the considerations for each
Understand the importance of your motivation for giving and your impact measurement
The importance of including equity in your assessment of impact measurement
Communicating Your Results
What should you measure?

Then, what should you communicate about it?
Day Two – June 23, 2022 – 1pm – 4pm
Clodagh Connolly &
Andres Schottlaender
Corporate Citizenship
Understanding a Measurement Model
Explore the B4SI measurement to management model as an example of the measurement process
Learn the terminology of measurement – what inputs, outputs, and impacts mean in the B4SI context
Business Benefits of Corporate Social Impact
Hear research and guidance on how to measure the financial and business return on investment from your CSR programs
Resources:
Who Should Attend:
Corporate social impact practitioners with responsibility for measuring the impact of the company's CSR efforts and/or contributing data for ESG reports
ESG practitioners who partner with CSR teams on their company's annual report
Nonprofit or philanthropic leaders who are looking to understand more about how their corporate partners approach impact measurement
Partner organizations who support nonprofits and corporations in their impact measurement process
Tuition
Nonprofit partners of ACCP member companies: $395 (you will need to input the member company during registration)

 
Great use of guest speakers, breakout rooms and the chat function to increase engagement.
2021 Participant
Loved the small group and the ability to ask questions as the presentation went along.
2021 Participant
Case studies and practical examples provided by the presenters were very helpful.
2021 Participant