Understanding ESG: An ACCP Summit
March 30 & 31, 2022
1pm – 4pm ET
Interactive Online Program
Overview
Environmental, Social, and Governance (ESG) issues are key business drivers for companies today.  Understanding how these areas add value or create risk for your company is crucial for Corporate Citizenship leaders, as you play a role in both understanding and impacting the ESG issues relevant to your business. Join us for Understanding ESG: An ACCP Summit to learn more about ESG and how you can enhance your company's approach. 
Learning Outcomes
Over the course of the session, we will cover:
An overview of what is encompassed within the topic of ESG
Defining materiality and the importance of materiality assessments 
Identification of key stakeholders and addressing the issues relevant to them
The role and importance of reporting ESG initiatives
Who Should Attend:
Corporate Citizenship leaders needing to learn more to better engage ESG teams/functions inside their organization.
Corporate Citizenship leaders who are branching out into ESG and need foundational knowledge of the topic
Tuition
ACCP Members: $395 
Nonprofit partners of ACCP member companies: $395 (you will need to input your partner contact/company during registration) 
Non-ACCP Members: $595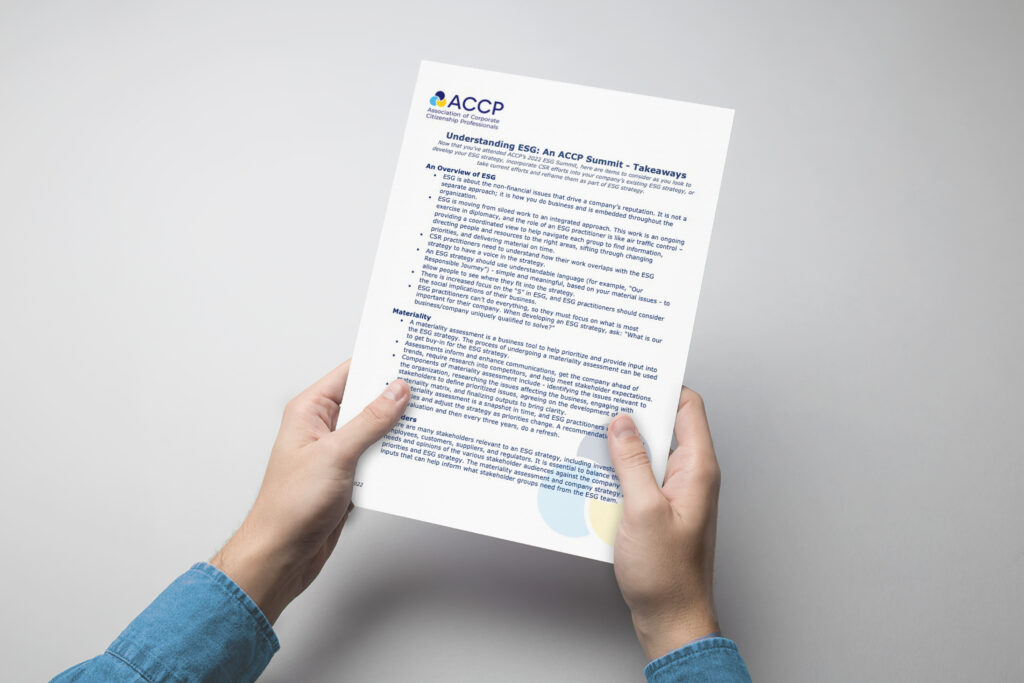 found session topics timely and useful
are likely to implement what they learned
ranked value of Program Good or Excellent
Day One – March 30th, 2022 – 1pm – 4pm
Welcome and Introductions
Christine Riley Miller
Senior Director, Global Reputation & ESG Lead at BeiGene USA, Inc.
An overview of ESG
What ESG is and why it is important
Lydia-Rose Cox
Senior Analyst, Brodie Partners &
Caitlin Karna
Senior Analyst, Brodie Partners
Understanding Materiality
Defining materiality
The importance of materiality assessments
Key steps in the materiality assessment process
How does materiality translate to strategy
Day Two – March 31st, 2022 – 1pm – 4pm
Panelists:
Jaime Barclay, Social Impact & Public Policy Lead, Momentive.AI
Eileen Buckley, Senior Director, Corporate Responsibility, Stryker
Catherine McGlown, VP, ESG & Community Impact, MetaBank
Identifying and Collaborating with Key Stakeholders: A Panel Discussion identifying key stakeholders and the issues relevant to them:
Considering stakeholders in your ESG strategy and practice
Internal stakeholders / how to collaborate internally
Panelists
Susan Hunt Stevens, Founder/CEO, WeSpire
Eric Massey, Director, ESG Policy and Reporting, APS
The Role of Reporting & Disclosures
What is ESG Reporting
Key Audiences for your ESG Report
How Companies Typically Report (Annual Reports + Disclosures – SASB, TCFD, etc.)