A Global Approach to CSR: An ACCP Summit
December 6 & 7, 2022
1pm – 4pm ET
Interactive Online Program
Overview
Corporate social impact crosses borders and serves as a guiding light for global companies to think broadly about their strategy for engaging with communities worldwide. Programming must be tailored to the needs of different locations, to the policies and laws of a given country, to the expectations of local employees, and to the cultural customs and practices of a given region. Join us for A Global Approach to CSR: An ACCP Summit to learn more about a comprehensive approach to impactful engagement across the globe.
Learning Outcomes
Over the course of the session, we will cover:
Tools to develop a global giving program
A global approach to volunteerism & grantmaking
Identifying global partners and building local relationships
Incorporating equity into your global CSR efforts
Who Should Attend:
Corporate Citizenship practitioners responsible for international grantmaking or volunteering
Corporate Citizenship practitioners whose companies are preparing to expand internationally
HR, Legal, Finance, and/or DEI practitioners who are called upon to support CSR teams in serving global communities
Nonprofit or philanthropic leaders who are looking to understand more about how their corporate partners approach global giving and volunteering
Partner organizations that support nonprofits and corporations in their Global CSR programs
Tuition
ACCP Members: $395

Nonprofit partners of ACCP member companies: $395 (you will need to input your partner contact/company during registration)

Non-ACCP Members: $595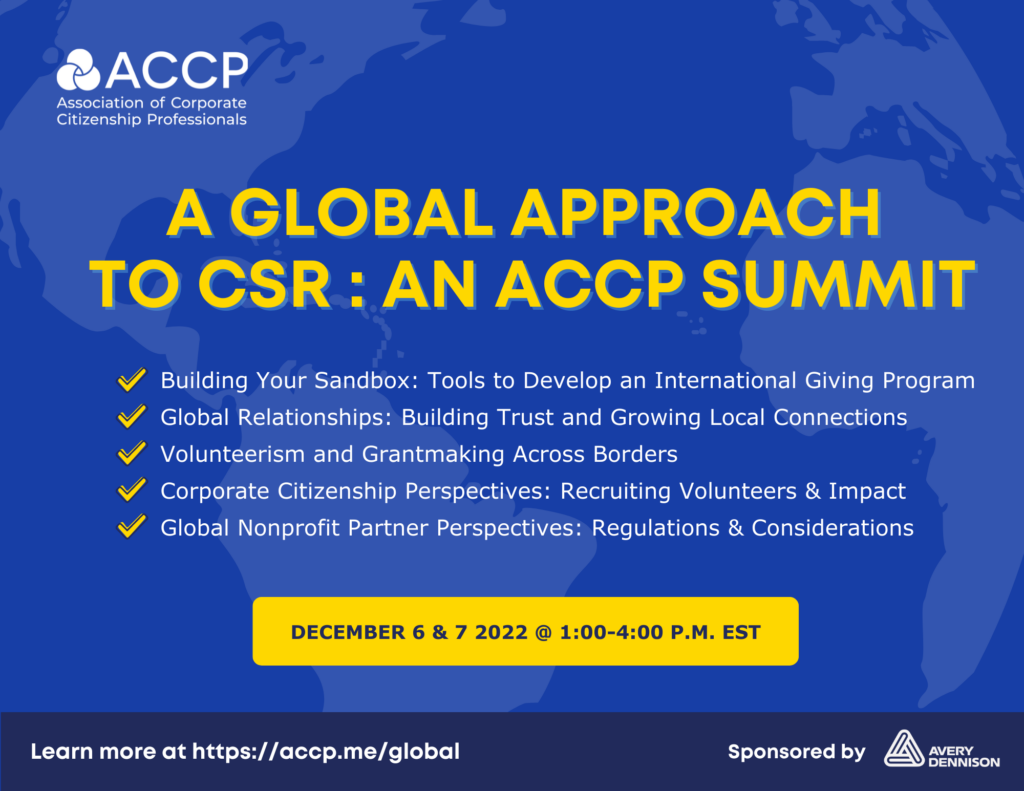 Day One – December 6, 2022 – 1pm – 4pm
Welcome and Introductions
Get to know those in the session
Share our experiences, successes, and roadblocks
Bob Waldman , Venable
Cathy Maher, GlobalGiving
Leith Robotham, The Walt Disney Company

Building Your Sandbox: Tools to Develop an International Giving Program
Partners

– Starting out and why you might partner with intermediaries
Rules and Regulations – What do you need to know to set your program up for success
Risk Mitigation – Assessing risk tolerance and identifying compliance concerns most relevant to your organization
Lara Fedorov, Medtronic Foundation
Lindsay Kincaid, Team4Tech

Alex Sajben, Give2Asia
Global Relationships: Building Trust and Growing Local Connections
How to engage local employees
The importance of building lasting relationships with local partners
Building trust with cross-cultural relationships

 
Day Two – December 7, 2022 – 1pm – 4pm
Ebony Janelle, GoDaddy
Tiana Austel, Illumina
Stephanie Aguilar, Paramount Pictures
Fanny Laguna, Sage
Corporate Citizenship Perspectives: Recruiting Volunteers & Impact
Case studies from ACCP Member Companies' global volunteer programs
How to engage, train, and recruit local volunteers
Program impact examples
Monica Carrillo Zegarra, King Baudouin Foundation
Sheena Agarwal, Give2Asia
Loren Previti, CAF America
Global Nonprofit Partner Perspectives: Regulations & Considerations
Regulations and cultural considerations for giving and volunteering internationally
Session will conclude with breakout groups by select regions around the globe
Stay tuned for updates to the agenda as they are confirmed, including information on speakers.